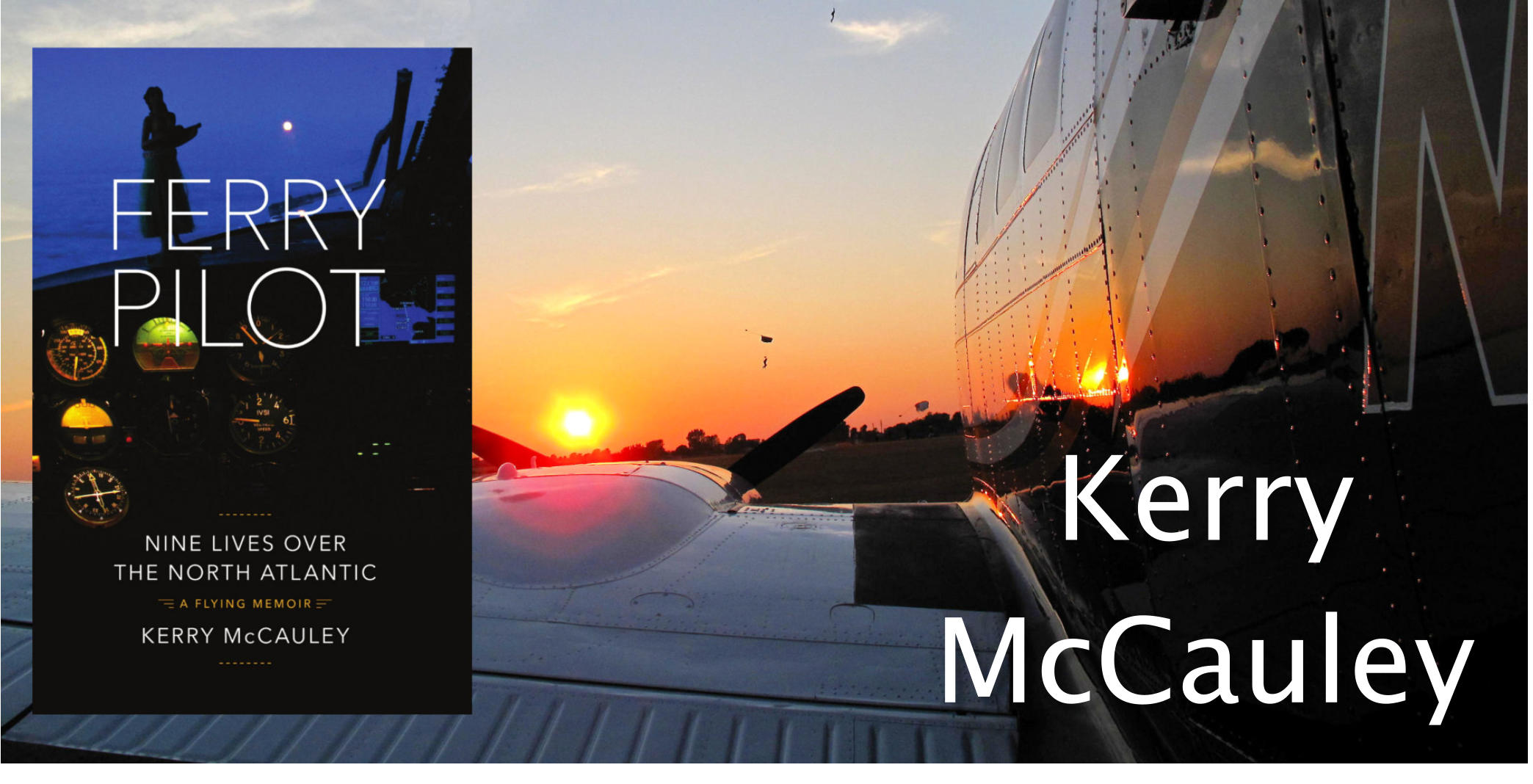 FERRY PILOT – Nine Lives Over The North Atlantic
April 6, 2021 @ 7:00 pm

-

9:00 pm
                                         – –  FERRY PILOT – Nine Lives Over The North Atlantic  – –
                                                                        with Kerry McCauley
Book:  'FERRY PILOT: Nine Lives over the North Atlantic" Kerry McCauley has the job most pilots can only dream of: delivering small used aircraft to locations around the world.  In his 30 years as an international ferry pilot, Kerry has delivered almost every kind of airplane you can name to almost every location you can think of.  In his long career Kerry battled fuel system malfunctions over the Atlantic, a total electrical failure at night over the Sahara, getting lost over Africa and getting struck by lightning off the coast of Portugal.  Not to mention losing his engine and having to fly dead stick in a thunderstorm.  Kerry's almost insatiable, reckless quest for danger and adventure also led to putting international smuggler and bank robber on his resume.  Kerry found the answer to the question "What could possibly go wrong?" time and time again.  But his skill, ingenuity and a heavy dose of luck were what allowed him to survive the countless mishaps, catastrophes, close calls and a nearly fatal plane crash.  While "Ferry Pilot" is a riveting account of one man's crazy thirst for thrills and adventure, it's also a portrait of a brave and devoted family man who lost many close friends, including his first wife, to the dangerous skies.
ABOUT OUR SPEAKER:
Kerry McCauley, Pilot and Skydiver who lived to write about it.  Kerry McCauley's life of adventure started out in the Minnesota National Guard as a UH-1H "Huey" crew chief and winter survival instructor.  He then moved on to becoming an international ferry pilot, professional skydiver and corporate jet pilot.  His career as a ferry pilot has taken him to 60 countries, over three oceans and six continents.  Kerry is frequently invited to speak about his adventures as a ferry pilot and his starring role in two seasons of the Discovery Channel's series Dangerous Flights.  He's flown almost 50 different types of aircraft, has 9000 hours of flight time and 20,000 skydives. Kerry currently lives in Wisconsin with his wife Cathy.  They own and operate a skydiving school along with their children, Claire and Connor.
THIS EVENT IS AN ONLINE ZOOM MEETING – SEE ACCESS INSTRUCTIONS BELOW:
IF YOU ARE UNFAMILIAR WITH HOW ZOOM MEETINGS WORK, GO TO HTTPS://ZOOM.US FOR MORE INFO
Share This Post, Choose Your Platform!